Vazart Coquart Rosé champagnes
Rosé champagnes combine fruitiness and colour, to the utmost delight of wine lovers.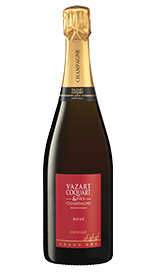 Rosé
Champagne Vazart-Coquart Chouilly Grand Cru Non Vintage
Grape variety :

95% Chardonnay - 5% Pinot Noir

Assembly :

We vinify a part of our Pinot Noir in red wine, which allows us, after blending with our Chardonnay, to obtain this Champagne Rosé.

Tasting moment :

Aperitif, meal and dessert

Dosage :

3.5 g/l
We blend our red Pinot Noir with our Chardonnay to make this festive wine. Its charming red fruit freshness and tangy finish make this Rosé a champagne to drink on any occasion.